Laura Benarosch, Managing Director of Concierge Med Spa Reveals Full-Service Luxury Med Spa Benefits Are For Both Women and Men On Remarkable Radio
Managing Director of Concierge Med Spa, Laura Benarosch, was the featured guest on Remarkable Radio with host Mark Imperial talking about Full-Service Luxury Med Spa Benefits Are for Both Women and Men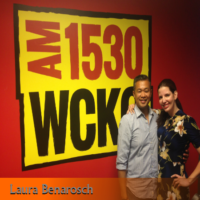 On a recent episode of Remarkable Radio with Mark Imperial, Laura Benarosch, Managing Director of Concierge Med Spa, discussed Full-Service Luxury Med Spa Benefits Are For Both Women and Men.
According to Benarosch, regardless of age, preventative treatments are better than corrective.
Benarosch, said "So it's not just for aging people, it is for young people too. When you're younger, it's easier to keep you looking great and keeping those problems under control than it is to go and fix it and correct it once it's a severe problem".
When host Mark Imperial asked what is hot today in Med Spa treatments, Benarosch answered, "So there's two categories — body contouring, CoolSculpting is the hottest thing that's out there that everybody's talking about. Even the celebrities are doing it too. The treatment is for that pinchable, squeezable, unwanted fat in problem areas. The chin, arms, stomach, inner and outer thighs; love handles; the banana roll under the butt…Everybody wants to be skinnier. The skinny even wants to be skinnier! So something that we talk about to almost all of our clients is Body Contouring. Second category, you have your injectable clients — your Botox, your dermal fillers. We are top tier in the country. Dermal fillers help to put everything back in place before volume loss occurred".
During the Interview Benarosch shared a common misconception, explaining, "Well, I think people will hear of a buzz word like Botox — the word Botox can be sometimes taboo. There's like a false stigma to it. So I think with Botox what you have to understand is, it's not permanent. It only lasts three to four months. The good and the bad news — the good news is if you hate it, it goes away in three to four months. The bad news is, if you love it, it goes away in three to four months".
Laura Benarosch is the Managing Director of Concierge Med Spas with locations in Naperville, Geneva, Barrington, and Chicago, Illinois.
The interview concluded with Benarosch saying "We would love for you to come and book a free consultation. You can find us on Facebook you can follow us on Instagram and our Web site is http://conciergemedspa.com/ or you can always call our main number and that can get to all of our locations which is 630-715-2853."
To listen to the full interview on Remarkable Radio, visit https://www.wckg.com/remarkableradio/laura-benarosch/.
To learn more about Laura Benarosch and Concierge Med Spa, please visit http://conciergemedspa.com/.
Media Contact
Company Name: Imperial Action
Contact Person: Kathleen Zinser
Email: media@imperialaction.com
Phone: (630) 923-5425
Country: United States
Website: http://www.imperialaction.com